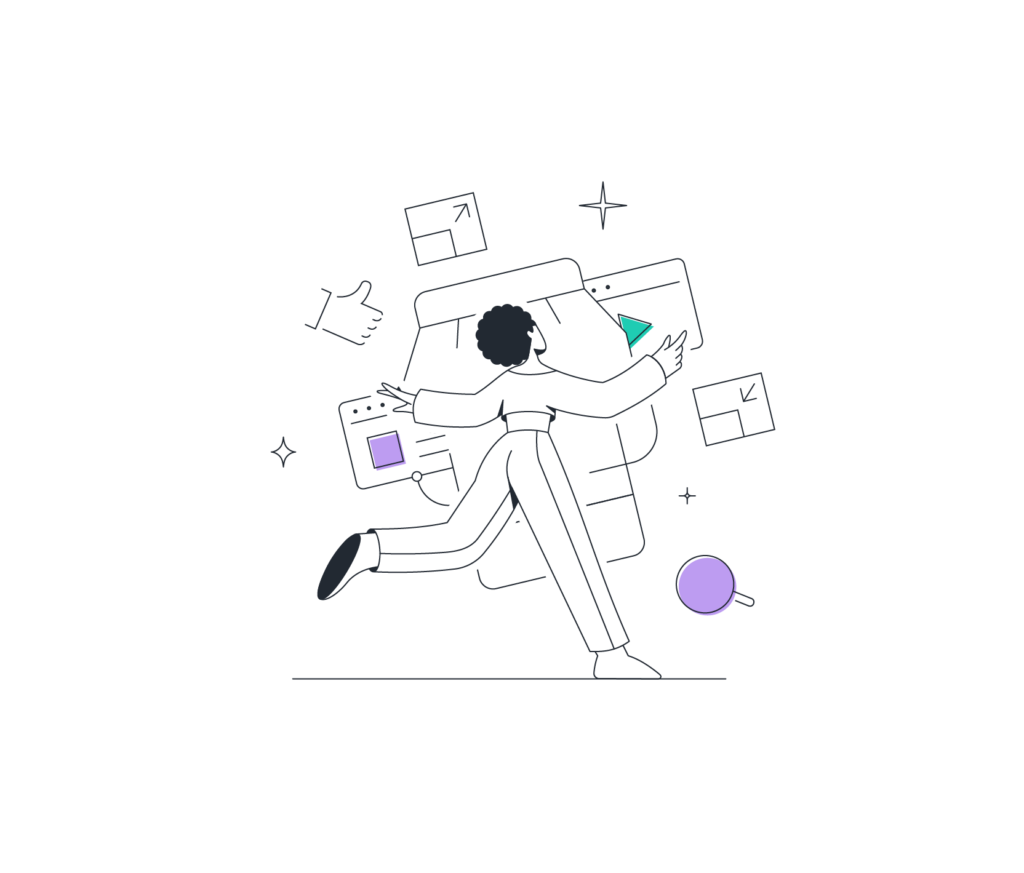 How can you ensure that a visitor also buys your products?
Visitors won't benefit you if they don't purchase anything. So while the first aim of your website is to attract visitors, the second and main aim is to turn them into buyers. In marketing terms, this is known as conversion.
It's perfectly possible to double your turnover!
Suppose you get about 200 visitors a day, 4 of whom make a purchase. You can increase your number of visitors, but that will take a lot of effort. But if you can get 8 people out of the 200 to make a purchase, instead of 4, you will double your turnover.
You need to organise your website in such a way that visitors are steered towards the desired action, preferably filling their shopping carts. But how can you influence this? It is essential to earn, retain and convert visitors' attention.
Below are some tips to make it as easy as possible for visitors to have confidence in and to make a purchase in your webshop:
An attractive design inspires confidence
An attractive design ensures a good impression and immediately helps to build confidence. The simpler, more familiar and more pleasant the experience for your visitor, the faster they will proceed to making a purchase. The Lochting platform gives you a wide choice of colours and elements, but be consistent. For example, always use the same button style throughout your site.

Grab attention right away and cut the crap
You only have a few seconds to catch and retain a visitor's attention. It is therefore important to be as relevant as possible, and at the top of the page (above the fold, so to speak).
Your visitor should immediately be able to see what you are offering and what's in it for them.
An intro text about your pharmacy is useful, among other things for SEO purposes, but it means you will already have wasted valuable attention. It is therefore better to include this lower down the page.
This is also important for your webshop! Keep the most relevant products at the top. You can also respond to themes here, for example by putting sun creams in the spotlight in the summer. A product that a visitor is actually looking for will not only grab their attention but also give them the feeling that they are being helped.
Steer your visitor in the right direction
Alongside a website's design, its user experience (UX) plays a crucial role in the purchasing process. You have to ensure that your website is easy to navigate, so a visitor knows where to go and what to click on to achieve their goal in the simplest possible way.
There are a lot of 'tricks' for this. We already know that images attract more attention than text, but a photo with people attracts even more attention and baby photos more still! Let your web builder help you with this, as they will know the tricks of the trade.
Make sure your CTA is clearly visible
For example, a call to action could be your order button. This will lead to your visitors' most important action. So make sure it is clearly visible and also remains visible while they are scrolling.
Ensure as little distraction as possible
As even the slightest distraction could cause the interest of your visitors to wander, be sure to provide the least possible distraction from their purchasing decision. Please note: there is a difference between a website and a webshop. Your website is used as content marketing and to improve your SEO. This is where you post useful information, link to your social media and so on.
Your webshop is a sales channel, where the focus lies on the products.
Avoid stress caused by too much choice
Although freedom of choice is a good thing, an excessively wide range of options will drive visitors away. So you should provide a selected range of products which is limited in number. Or put a few favourites in the spotlight, such as particularly popular products.
Put a selection at the top of the webshop so that this is immediately clear
The needs of your customers are paramount here. What are they looking for? Which product range best suits their needs? Do you mainly want to address local target groups and use your webshop as an extra service, or would you like to broaden your reach? These are just a few of the questions you must ask yourself before getting started on your webshop.
First work out for yourself exactly what you want to achieve with your webshop. You can choose to put your entire range online, or just a few categories. You can focus more on cosmetics and care, for example, possibly even offering a broader range than you have on the shelves of your pharmacy. This is how you combine online and offline. And by doing so, you even provide an extra service! You can also combine this with additional articles or tutorials to help your customers make the right choices.
Sell more than the customer had in mind
Show your visitors one or more additional products during their search or order. Let's suppose it's the winter and a visitor wants to buy a cough syrup. You could then also suggest vitamins or a lip balm, for example. Without pushing, you might help your customer to realise that they also need or could use these products. That way, they can order everything together.
Be open to reviews
Allow your customers to share their experiences on your website, for example via Trustpilot. Reviews help others to make better choices while also helping you to further improve your range. When satisfied customers talk about their experiences with your pharmacy, it's the best possible form of advertising! Collect testimonials from your customers and use them on your website. Based on these reviews, you will be given a rating that you can display on your site, linked to the comprehensive reviews of your customers. This transparency inspires confidence.
Don't forget to mention your quality labels
A quality label on a webshop makes visitors feel confident that it is safe to order products from it. In addition to the FAGG label, which you must show on your website, there are also other labels. Before you can use them, you must go through certain procedures. One example of this is the 'Verified by SafeShops.be' label.